SMASH 2: Fearless (Paperback)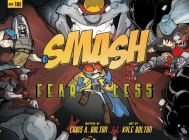 Description
---
Superhero. Super young. Super freaked out! In his second adventure, Smash has his hands full with old enemies and a few new ones — not to mention homework.

Thanks to a strange twist of fate — and a massive explosion — Andrew's dream of having the strength and abilities of his superhero idol came true, and Smash was born. Great, right? Wrong! As superhero Smash, Andrew finds himself in a losing battle with the one emotion no hero should ever feel: fear. And he definitely didn't count on becoming the prime target of Magus, the vilest supervillain of all time, who will stop at nothing to steal Smash's powers. It's going to take Andrew everything he's got to conquer his fears, safeguard the city, keep his identity a secret . . . and pass the fifth grade.
About the Author
---
Chris A. Bolton has written short fiction, stage plays, sketch comedy, and screenplays. He is the writer of the webcomics Z-squad and Fireborn. He lives in Portland, Oregon.

Kyle Bolton is an artist and video game animator. He has been drawing since the age of four, although Smash is his first professional comic work. He lives in Seattle.
Praise For…
---
A fifth-grade superhero gets caught up in a three-way struggle with a supervillain and a mad scientist in his second round of adventures (Smash: Trial by Fire, 2013)...Brisk, nonstop, chock-full of awesome exploits.
—Kirkus Reviews