The Kids' Book of Chess and Starter Kit: Learn to Play and Become a Grandmaster! Includes Illustrated Chessboard, Full-Color Instructional Book, and 32 Sturdy 3-D Cardboard Pieces (Paperback)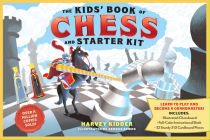 Description
---
It's the classic revised and reillustrated! With more than 1 million copies sold, <I>The Kids' Book of Chess<I>is the bestselling introduction for kids to the game that's inspired passion and challenge for over 900 years—and, thanks to Netflix's monster hit, <I>The Queen's Gambit<I>,is again surging in popularity.
            The <I>New Yorker<I> said it best: "Harvey Kidder explains the game with a clarity that is almost absolute." By grounding the fundamentals of how chess works in the game's origins—the medieval battlefield—Kidder captures chess's energy and excitement while offering instruction that is direct and concrete. Pawns, modeled after common foot soldiers, advance step by step. The Knight's leaping "L"-shaped move recalls the warrior on horseback. Powerful Bishops line up alongside Queen and King, just like the Middle Ages alliance of Church and State. Illustrations bring all this pomp and pageantry to life while the text covers the beginning, middle, and end game, along with winning strategies for offense and defense—how to castle, how to protect pieces, how to control the center of the board, and more.
            With its new art throughout, full chess set of sturdy punch-out cardboard pieces, and cardboard chessboard, <I>TheKids' Book of Chessand Starter Chess Set<I> has everything a child needs to step away from the screens and start playing the greatest analog game ever created.
About the Author
---
Harvey Kidder was a highly-renowned author, artist and illustrator. His popular book, "The Kids' Book of Chess", was originally written for his son and has been in print for over thirty years.
Praise For…
---
"Harvey Kidder explains the game with a clarity that is absolute." —The New Yorker