Old MacDonald Had A Farm (Hardcover)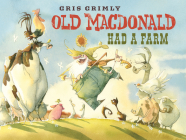 Description
---
Celebrated creator Gris Grimly, widely known for his gothic style illustrations, turns over a new creative leaf in his glorious interpretation of this beloved preschool anthem. Inspired by his son's love for Old MacDonald and his own family's farming history, and with stunning, sweeping watercolor illustrations, and a surprise twist ending that kids will relish, Gris brings this beloved song to glorious new life.

Young children will love reading and singing along as they join our nimble footed Farmer on his morning jaunt across the farmyard and he greets each of his farm animals and beckons them to join his parade. Little ones will delight when the parade culminates in an unexpected e twist ending as Farmer opens the big red barn doors...and GASP...there's a BEAR hidden inside!

With a moving artists' note from Gris explaining the history of this song, and his personal connection to it, this delightful retelling has all the makings of a classic.
About the Author
---
Gris Grimly is a celebrated painter, sculptor, and filmmaker who has created a rich collection of spooky picture books, including the Wicked Nursery Rhymes trilogy and his own retellings of The Legend of Sleepy Hollow and Frankenstein. He lives in Los Angeles with his wife and a young son, whose love of Old MacDonald inspired Gris to reimagine this childhood classic.
Praise For…
---
Praise for Old MacDonald Had A Farm:
 
* "Grimly taps into the almost manic energy of this nursery rhyme and distorts it just enough to make it fresh." --
Publisher's Weekly
, starred review
"[Old MacDonald's] joy and enthusiasm are contagious...Grimly's wondrous watercolor work...may leave even casual readers breathless." --
Kirkus Review
"A fun addition to any children's book collection, especially where picture book versions of familiar songs are popular." --
School Library Journal
Praise for Edgar Allan Poe's Tales of Mystery and Madness:
* "The gently abridged retellings are in Poe's original language, and Grimly's wonderfully ghastly, full-color spot and full-page art splendidly depicts the mayhem that leads to murder in 'The Black Cat,' the partying in the 'The Masque of the Red Death,' the vicious genius of 'Hop-Frog,' and the dual connotations of 'The Fall of the House of Usher.' In addition to varied sizes and presentation of images, Grimly uses different typefaces to set off aspects of the narratives, which flow across the pages in the traditional manner rather than appearing in comics-style panels. With high-production values and gothic sensibilities thoroughly reflected in both text and art, this is an essential purchase for libraries. Adults can use it to lead young people to some great literature; readers will pluck it off the shelves themselves for creepy, entertaining fun." --
Booklist
, starred review